Investors decided that Bitcoin wasn't such a good deal after all – or nearly any altcoins, for that matter. Bitcoin was recently trading just below $30,000, a more than 6% drop over the past 24 hours that relinquished much of the gains posted during a U.S. holiday weekend surge. Bitcoin price was changing hands at $29.807 as markets responded to the relaxation of COVID-19 restrictions in China and the faint possibility that the U.S. central bank might relax its monetary hawkishness much later this year.
BTC/USD 4-hour chart | Source: TradingView
Bitcoin price declines, resisting seasonal norm; altcoins mixed
BTC pared earlier gains after buyers took some profits below the $33,000 resistance level. The cryptocurrency could find support, initially at $27,500 and then at $25,000. The relative strength index (RSI) on the four-hour chart reached oversold levels on Monday, which preceded the current pullback in price. And on the daily chart, the RSI returned below the 50 neutral mark, indicating a temporary loss in upside momentum.
On the weekly chart, bitcoin appears to be oversold, albeit with negative momentum signals. That suggests the upside could be limited beyond $35,000. For now, BTC is roughly one week away from registering a downside exhaustion signal, which previously occurred on June 7 of last year and on Jan. 10 this year. Still, a weekly close above $30,000 is needed to confirm a bullish short-term signal.
"Bitcoin and Ethereum gave up the profits that it had been enjoying since the weekend after the S&P 500 wobbled to a loss Wednesday. The "profitability line" was crossed for our 30-day MVRV metric, indicating that risk had temporarily jumped higher", Santiment reported.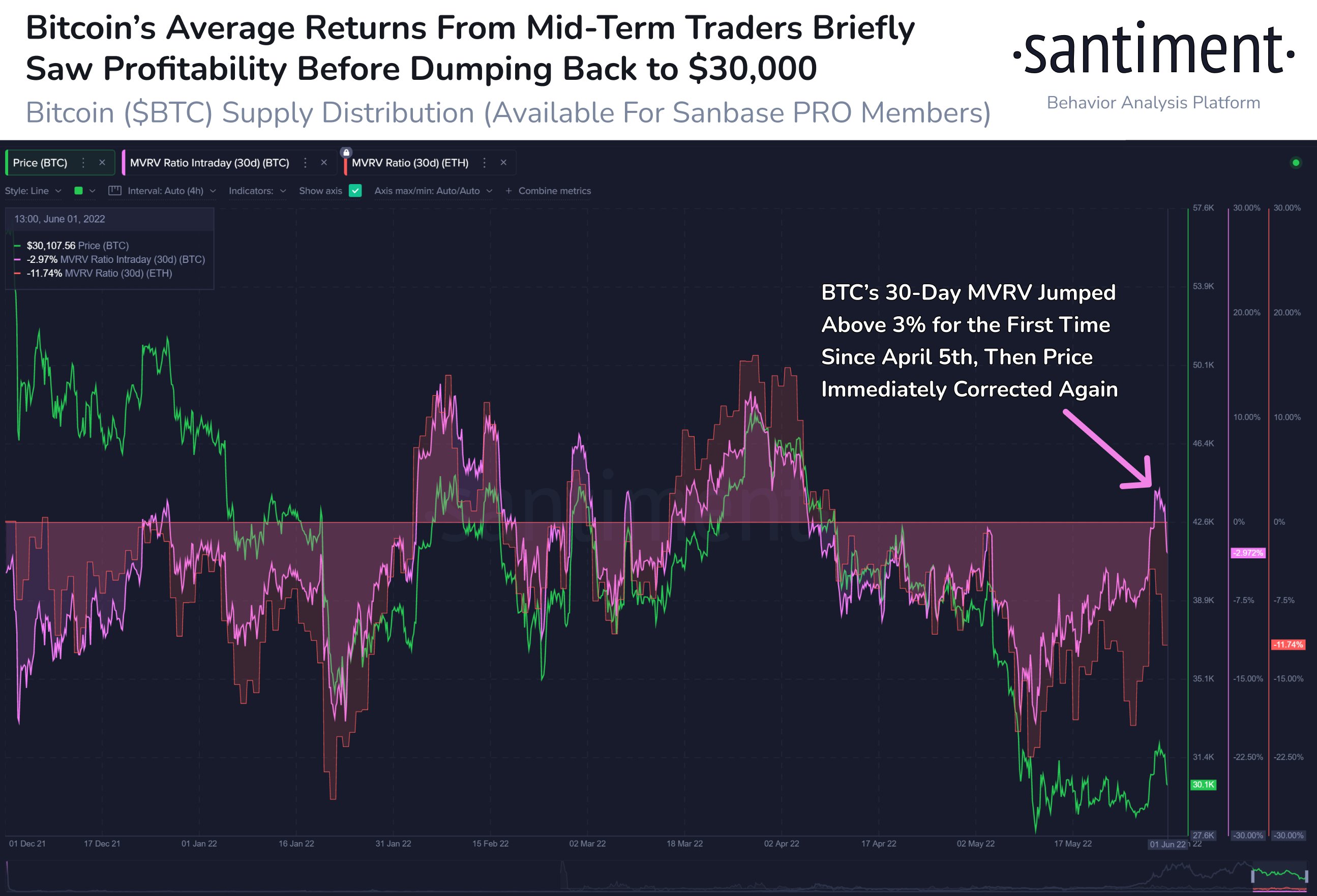 Source: Santiment
Most altcoins declined alongside BTC. For example, Solana (SOL) declined by 10% over the past 24 hours, compared with a 4% decline in BTC over the same period. GALA and ADA were down by 7% yesterday. All that good faith had faded into the mists by early today, with investors returning the whole hog to the risk-aversiveness that has colored their moves for much of the past eight months. Ether was also down over 7% over the same period, trading at about $1,800. Other altcoins sank even deeper with Luna Classic (LUNC), the new name for the original LUNA on the Terra protocol, falling 61% at one point.
💸 With $UST's (now known as $USTC) collapse in mid-May and $USDT's temporary de-peg scare, the #stablecoins moved heavily into their top 10 largest addresses (mainly exchanges). Meanwhile, $USDC and $DAI have been more heavily adopted by the mainstream. https://t.co/AAn7EFiLCF pic.twitter.com/75BZ75hloN

— Santiment (@santimentfeed) June 1, 2022
The overall cryptocurrency market cap stands at $1.235 trillion, and Bitcoin's dominance rate is 46%.
Read more:
Join us on Telegram
Follow us on Twitter
Follow us on Facebook