Bitcoin price dipped for a third consecutive day to fall perilously close to the $20,000 threshold it had eclipsed last week and that has become a psychological barrier for investors who see the current bear market worsening. The largest cryptocurrency by market capitalization was recently trading under $20,300, down about 2.5% over the past 24 hours as investors eyed the latest influx of discouraging economic data. At the time of writing, BTC is changing hands at $20,323.
BTC/USD 4-hour chart | Source: TradingView
Bitcoin price slogs toward $20K; Ether and other cryptos slide
There was no shortage of drama in the news as the crypto industry continued to address the fallout from the recent carnage in digital-asset markets. The price of BTC is now trading at less than a third of its all-time high of around $69,000 late last year.
Yesterday, the U.S. Consensus Bureau's durable-goods report showed orders in May rising higher than estimated, fresh evidence that the economy was not cooling enough for the Federal Reserve to moderate its current monetary hawkishness. After that, the Conference Board found consumer confidence in the economy lagging to its lowest level in almost a decade, a sign of the anxiety spurred by rising inflation, geopolitical unrest, and recession fears. The report dovetails with the University of Michigan's consumer sentiment index falling to an all-time low last week.
"Ethereum is back below $1,200 as crypto and equities retraced Tuesday. Positive commentary is very scarce these days for the top 2 market cap asset. So much so that we haven't seen the ratio of positive vs. negative comments this low since May 2018", Santiment reported.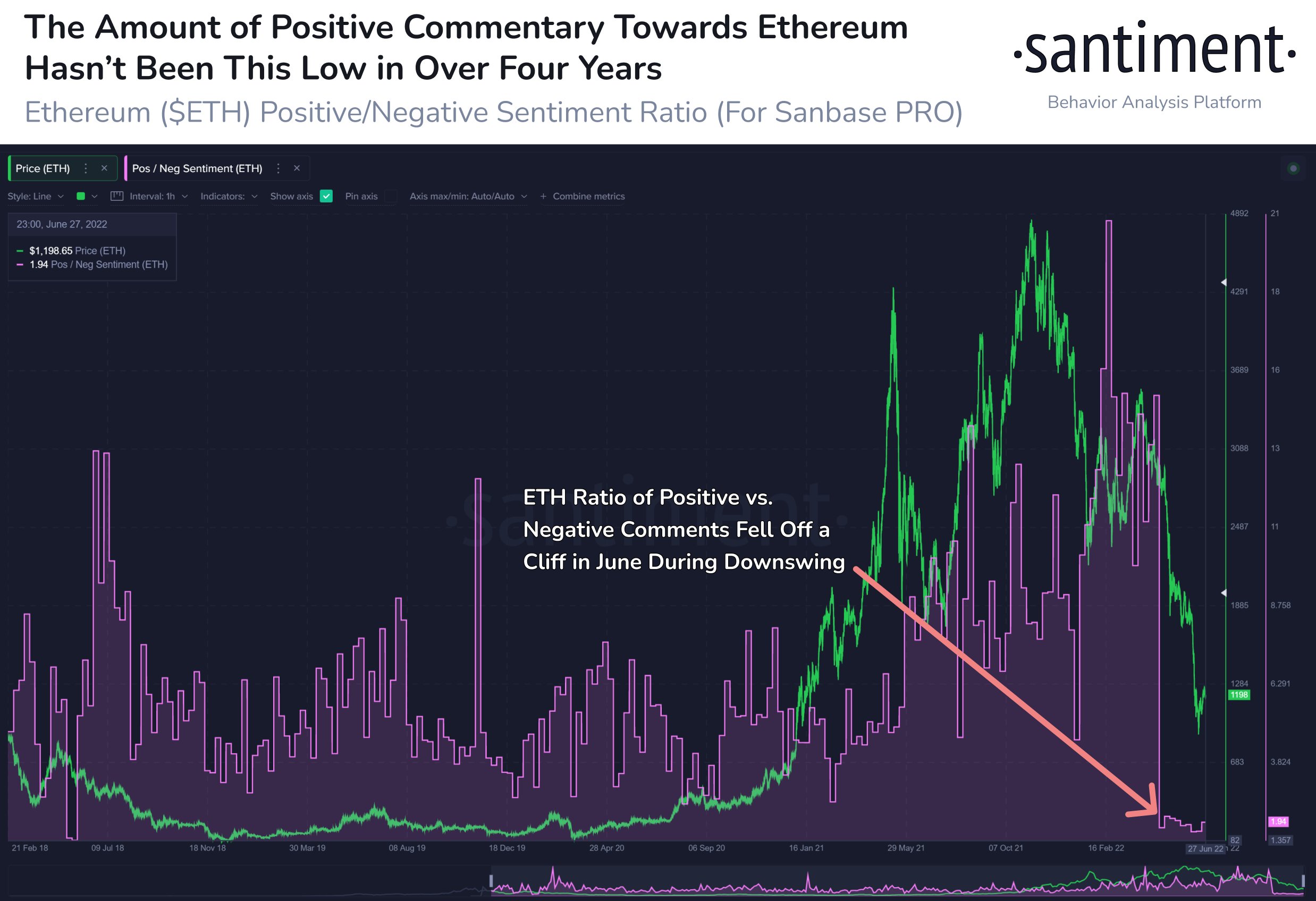 Ether, the second-largest crypto by market cap, was changing hands below $1,200, off almost 5% over the same period. Most other major cryptos were in the red with SHIB and DOGE plunging nearly 8% and 7% respectively at one point. The popular meme coins had led in market returns for the past seven days.
The overall cryptocurrency market cap stands at $912 trillion, and Bitcoin's dominance rate is 42.5%.
Read more:
Join us on Telegram
Follow us on Twitter
Follow us on Facebook