Crypto trading bots allow you to automate your trades and buy or sell in your place. There are a number of those in the market but Bitsgap and Pionex are the best ones out there. Therefore, here's a brief Bitsgap vs Pionex comparison:
Features
Bitsgap
Pionex
Mobile App
No
Android, iOS
Audience
Both users and companies
Both users and companies, along with mobile users provided with a better user-friendly environment
Training
Via documentation
Both via documentation and live online
Pricing
Paid, but free trial available ($19/Month)
Free
Company Info
Estonia, 2017
Singapore, 2019
Support
Both of them provide online support
Bitsgap vs Pionex
What is Bitsgap?
Bitsgap is an all-in-one trading platform with the best crypto trading bots. The bots are developed with advanced algorithms like grid trading. You can manage all your assets on one platform with its single interface. The platform supports more than twenty plus exchanges, including the most popular ones like Binance, KuCoin, Coinbase, Huobi, and many more.
Also read, Bitsgap Review| Get Signals, Trading Bots, and Arbitrage
What is Pionex?
Pionex is a platform where you can auto trade your cryptocurrencies with more than sixteen in-built trading bots. The platform Pionex aggregates its liquidity from Binance and Huobi. Pionex is dedicated to making more profits and minimizing the risks involved. And uses bots like grid trading and arbitrage bot. The platform Pionex is well designed for both beginners and experienced traders alike. Finally, the bots are free to use, but plus points like trade with USD are also included.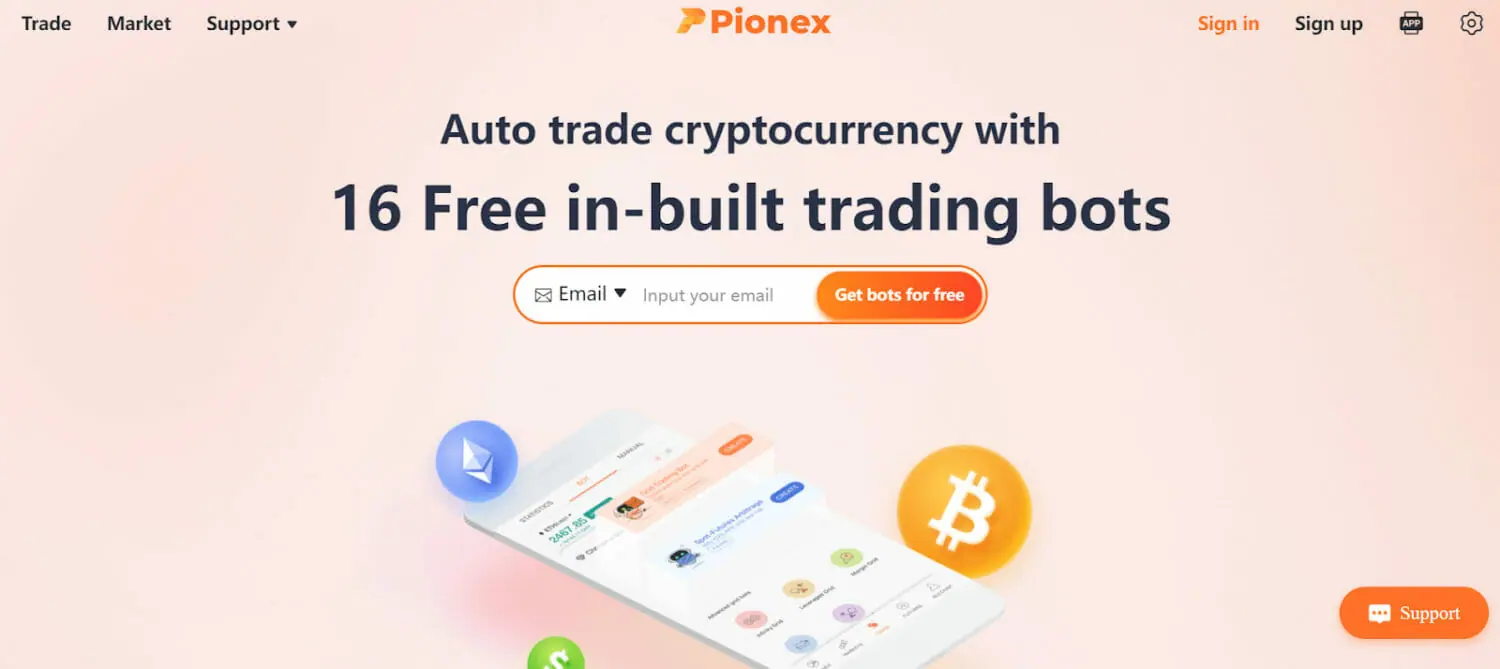 Also read, Pionex Review — Simple trading bots for passive traders
Bitsgap vs Pionex: Features
Bitsgap Features
The platform Bitsgap have the following features:
Arbitrage: You can look for price differences in multiple exchanges and then maximise the price. Ensuring maximum profit.
Bitsgap Trading Terminal: The trading terminal of the platform provides a good range of technical tools that help you in trading on a multi-exchange platform. With these tools, you can connect to multiple exchanges with one interface and trade efficiently and smoothly. Note that you can use this feature with no extra trading fees involved.
Bitsgap Trading Bot: The platform gives you various trading bots for Bitcoin and other cryptocurrencies. You can try the bot on more than twenty-five exchanges in a 7-day free trial. As a result, you can make profits by maximising profit from every single market movement. In addition, Bitsgap allows users to build future trading bots a very few platforms that let its user do this.
Bitsgap Signals: The platform provides signals to its users. The algorithm of the platform analyzes more than 10,000 crypto pairs per second to identify the best opportunities of the strongest uptrend potential. You can also set smart orders to minimize the risk.
Bitsgap Portfolio Tracking: Live portfolio tracking helps you know the performance of your assets. You can do this with over 1800 plus cryptocurrencies. In addition, the platform's interface lets you analyse your total funds and investment from different exchanges in one dashboard.
This feature is free to use without any limitations. It helps you manage your assets quickly and smoothly, eliminating multiple logins into exchanges.
Automated Trading Bots: You get pre-configured trading bots that are optimised through machine learning.
High Security: Bitsgap does not have access to any of the users' funds. The funds are stored in their exchanges themselves. The platform only makes the trading on behalf of the user, thus making your funds safely intact with the exchange. The orders are protected by high-end 2048-bit protection.
Bitsgap Demo Exchange: A very beginner-friendly feature that lets the user create a demo account and practice the platform with demo funds. Yes, demo funds. For practising they give you demo funds. You can connect your exchanges and educate yourself on how does the platform operate. With demo exchange you can expect the following benefits:
Practice trading with 1 BTC and 10,000 USDT virtual funds.
11 most popular exchanges to connect with.
Live market experience.
Test strategies on both mobile and web versions.
Try portfolio and trading bots.
Also read, Bitsgap Futures Bot | Binance Futures Trading Bot
Pionex Features
The platform Pionex has some prominent features as it is an exchange, and it can develop those features pretty quickly. Let us walk through the unique features of the platform:
Trigger price: This feature allows you to set an optional price range for your transaction. As soon as you do that, the bot freezes your assets and holds them until your target price is reached. In addition, this feature allows you to set up a grid bot in advance, which will enable you to buy only at your price range at the beginning.
Stop-loss price: This feature allows the user to set an emergency price when selling assets. This helps the user sell the assets at a price limit lower than your range, which happens when the price keeps dropping. In addition, it can also go above your limit order if the price keeps rising. This feature is useful particularly in stable coins when run under the grid bot.
Close bot: The close bot feature allows you to set a price range upper or lower to your limit. This is helpful when you hit the range and the bot sells your assets. However, note that once the bot hits your range it closes. It does not operate any further, saving you from buying high. Maximum profit is ensured this way. Note that you can set your limits once you are sure that the price won't go down further than your range.
AI backtesting feature: A very unique backtesting feature that helps the beginners who is unaware of how things work. In addition, users who are unsure of specific settings can also try out. You can either go for "set myself", where you can go manually or simply let the AI do its job. The bot then suggests after analysing and backtesting the last seven days data with your data. So, if things go the same way, it will be an easy choice to make. However, always remember there is no guarantee.
Grid Spacing- Arithmetic/Geometric: This feature lets you differentiate your orders from one another, that is, grid spacing. This is helpful when you do not wish to run your orders in the same range. When you want ranges differently for different orders, you must differentiate them either by arithmetically spacing between orders is ten or go by the geometric spacing between orders by 10%.
Related read, 5 Best Crypto Grid Trading Bots | Grid Bot
Release Profit: A unique and new feature developed by Pionex is release profit. You can release profit by not cancelling your running bot, which can happen while the bot keeps running normally. This is helpful in long term bots, where you can simply take your profit. There is no deduction whatsoever.
Orders displayed on the chart: Yet again, a new feature of the bot shows all open orders for a grid bot right on the price chart, shown by the user suggestion. This is helpful as users can visualise their grid bots and see if any changes or adjustments are required.
Also read, SmithBot AI Crypto Trading Bots- Live Trading Test
Bitsgap vs Pionex: Trading Strategies
The strategy proposed by any platform is made to minimize your risk and maximize profits. Always remember NO strategy can guarantee profits. Depending upon the investment and risk you are willing to take, you must pick a strategy. Both platforms offer an effective strategy that is displayed on their platforms. Let us go through the strategy provided by both of these platforms.
Bitsgap
1. Smart trading
This trading strategy involves mixing two different smart orders like "stop-limit" and "trailing stop-loss". This kind of strategy is best suitable for markets like spot and future. Smart trading provides the best risk and returns control, which is easily projected. The platform Bitsgap provides a list of smart order combinations that you can use. The following combinations are provided:
Take profit + Stop-loss: If you have some knowledge about strategies, then you know this is the straightforward one. As the name suggests, there are two orders involved, and the first one is to take profit.
The bot here locks up your profit once the target is achieved. At the same time, the stop-loss does its work if the market goes in the opposite direction, saving you from the losses.
Multiple take profits + Stop loss: Now, with this combination, you can set multiple take profits. For example, you can select your profit targets in portions and spread the risks involved. You can choose a target of 5% at the beginning price and the next at 10%, and so on. As the bot hits your first target, the profit is locked, and it then approaches your next target.
In the case of stop-loss, the ratio is calculated by dividing the dividend rate by the percentage of risk you put up at the beginning price. Calculate the rate, and you will know what the return with 1% of risk involved is. To understand better, create a demo account and run a trade in the risk-free mode.
2. Automated trading
Automated trading bots are beneficial for those who want daily returns in the sideways and rising and spot markets. The bot here regulates 24/7 irrespective of the market's trend direction. In this trading bot, all you have to do is give a few minutes to the configuration to make the most from the current market. Find the right pair to trade. The bot automatically buys more of your base crypto/currency and sells it higher to give you more of your base currency. The right cryptocurrency will generate more coins for you every day.
Also read, 8 Best Swing Trading Bots
3. HODL
A strategy that rightly defines the crypto market. If you are ready to lose everything to make a profit of up to 100-500%, this strategy is for you. However, it is always advisable to invest an amount that does not bother you much if lost. The bot here runs on no smart orders. That is no stop-loss or take profit. If your selected cryptocurrency goes up, you make a profit, and if it falls, you lose. Undoubtedly, a straightforward strategy. Always think, and do your research before investing in this type of strategy.
Also read, Hodlnaut Review – Earn Interest on Your Bitcoin [Updated]
4. Golden Strategy
Golden strategy is a strategy that you can use once you have experienced all of the above strategies. This is a combination of those three strategies. You can put some amount in smart trading, some in automated trading, some in HODL. Considering the risk factors involved, you may diversify your investment. For example, allocate 30% to smart trading, 50% to automated trading, and 20% to HODL.
In smart trading, you must keep checking the market conditions to adjust the limits. At the same time, in automated, the risk is minimal as you already have multiple limits set up, then comes the riskiest one, HODL, hence the minimum allocation.
Also read, Top 5 Bitsgap Alternatives
Pionex
Pionex provides enough educational content on both assets and strategies which helps the user pick a strategy for themselves. You must check out their QNA session to gather tried and tested strategies. The prominent strategies provided by the platform are as follows:
Grid Trading
Leveraged Grid Trading
Spot-futures Arbitrage Trading
Smart Trade
A straightforward strategy provided by the platform is that you can try on the grid trading bots. Which are you can buy low and sell high by setting your limit range. You will find multiple bots in the grid trading. The different bots and different strategy that comes with it are as follows:
Infinity Grid Bots: A bot whose strategy comes into the picture when you miss a pump in the market. The bot runs 24/7 and allows you to buy low and sell high, with no upper limit.
Leveraged Grid Bot: A grid bot with leverage facilities attached. Here you can leverage an amount with your capital and earn more profit. Note that with more profit, there is also more loss.
Margin Grid Bot: A bot similar to leverage grid bot. However, here the collateral attached with the leverage is not involved.
Reverse Grid Bot: A smart strategy to increase your quote amount, the limit you set for selling your asset. It sells high and buys low.
Leveraged Reverse Grid Bot: A strategy that combines leverage and reverses grid bot. You may use some features of the reverse grid and at the same time use the leverage to increase your profit. Note the risks involved with leverage trading.
DCA Bot (dollar-cost averaging): A very simple to use strategy. The DCA bot lets you buy at the same dollar amount, irrespective of the current price of the asset.
Trailing Take Profit: The bot works on the smart trade by trailing the price after the trailing price is set. The bot is designed to move the stop loss from the highest price it reached after the trigger price was hit.
Also read, 5 Best Copy Trading Apps in India [Important]
Bitsgap vs Pionex: Pricing and Plan
Pionex Fees
The bots on Pionex are free to use. However, there are trading fees and withdrawing fees involved. Note that there are no deposit fees.
In the case of withdrawing, there are two kinds of charges. Maker and Taker fees.
Maker and taker fees are 0.05% while withdrawal fees vary from coin to coin. Furthermore, there are minimum and maximum withdrawal limits. The KYC verified users have a withdrawal limit more than the non-verified users.
Also read, 3Commas vs Pionex vs Cryptohopper | What's best for you?
Bitsgap Pricing
Bitsgap offers half-yearly and monthly plans of three different kinds that are Basic, Advanced, and Pro. In the half-yearly packages, you can save up to 17%.
Also read, 8 Best Swing Trading Bots
Bitsgap vs Pionex: Ease of Use
Bitsgap
The interface of Bitsgap is pretty easy to use, unlike platforms where you may have to dig deep to find its features and other products. With Bitsgap, all you have to do is sign-up and connect at least one of your exchanges, and you are good to go. Once you sign-up, you will be running a trial or demo plan, so don't forget to check out the plans.
Also read, Bitsgap vs 3Commas vs Quadency
Pionex
The interface of Pionex is pretty easy to use. Beginners can very comfortably sign-up and create an account on Pionex since the bots are free to use the experience on the platform becomes comforting. Moreover, signing up on the platform won't take much time, as you can make an account by simply providing your mail. You can continue the rest of the verification procedure later. The platform interface is designed in a way that everyone can understand. Beginners can navigate the platform by themselves.
Bitsgap vs Pionex: Privacy and Security
Is Bitsgap Safe?
Bitsgap is safe to use the platform as your funds are stored in your exchange. Bitsgap does not have access to your funds. All the information and data is stored with 2048-bit standard protocols and are stored on a network protected by a firewall. For more protection, you can opt for two-factor authentication.
Also read, Quadency vs Bitsgap vs NapBots | Which trading bot is for you?
Is Pionex Safe?
Yes, Pionex is safe to use. The platform is a certified MSB by FinCEN. In addition, Pionex is invested by Gaorong Capital, Shunwei Capital, and Zehn Fund for more than 10,000,000 USD, and thus they are backed by them with this amount.
Also read, Pionex vs Binance| Trading, Fee, and Bots
Bitsgap vs Pionex: Customer Support
Bitsgap Customer Support
Bitsgap provides customer support to its users through email, telegram, and postcards.
Their Mail ID is: [email protected]
Pionex Customer Support
Pionex provides customer support to its users through email, live chat, tutorials, and announcements. You can connect with these modes directly through the official page. On the header, there is a section that says "support" click on it and you will find all the modes.
Bitsgap vs Pionex: Pros and Cons
Bitsgap
| Pros | Cons |
| --- | --- |
| Low fees. | No yearly plans. |
| Diversified payment modes are accepted. | The basic plan does not provide significant features. |
Bitsgao pricing pros and cons
Pionex
| Pros | Cons |
| --- | --- |
| Free bots are provided. | Withdrawing limits can get a barrier for some. |
| No deposit fees. | There are fixed withdrawing charges. |
Pionex pricing pros and cons
Bitsgap vs Pionex: Conclusion
After doing thorough research of both the platforms and multiple web searches, we have come to the conclusion that both platforms provide a different set of features and benefits. Although the strategies offered by the bots of these platforms are a bit similar.
Are bots legal in India?
Yes, bots are legal to use in India.
Does Bitsgap have mobile app?
No, Bitsgap has no mobile application. You can use the platform in the web version on their official website.
Can you lose money with Bitsgap?
You can not lose your money with Bitsgap as they are stored on your exchange. However, note that you will lose your money if you go on the loss while using the Bitsgap bots.
How do I link Binance with Pionex?
You can not link your exchange/Binance with Pionex. You must deposit your fund on Pionex and then trade with the bots.
Also read,