Ethereum co-founder Vitalik Buterin called out the popular Bitcoin price-analyst "Plan B" on Tuesday. He mocked the analyst's trademark Stock-to-Flow (S2F) price prediction model, suggesting that it was irresponsible to share from the start.
S2F 'Not Looking Good'
In a tweet hours ago, Vitalik posted a picture of Bitcoin's price plotted against the S2F model.
"Stock-to-flow is really not looking good now," he commented. With Bitcoin's recent declines, the price has deviated even further from Plan B's more bullish modeling published in March 2019.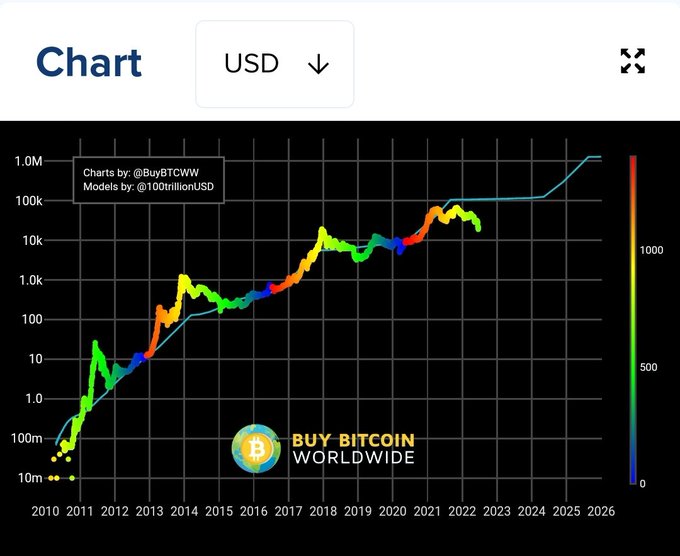 Stock-to-flow is a measure of a commodity's existing supply, compared to the rate at which the new supply enters circulation. The S2F model attempts to scientifically forecast Bitcoin's price based on this ratio, and its inherent scarcity.
As many know, Bitcoin's supply issuance is cut in half every four years, hence increasing its stock-to-flow ratio. Plan B's model predicts massive price surges for Bitcoin in the years following these halvings, often by orders of magnitude.
However, Plan B's S2F and other models started to fall apart in late November of 2021. He predicted a surge to $98k per coin at the time, only for Bitcoin to peak at $69k and reverse trajectory. Since then, many have taken the analyst to task over his modeling – now including Vitalik.
"I think financial models that give people a false sense of certainty and predestination that number-will-go-up are harmful and deserve all the mockery they get," said the developer. "Remember who supported S2F and who mocked it even back when it looked like it was accurately describing the trendline."
Following his criticism, Vitalik continued to mock the model by applying its logic to ETH. The second-largest cryptocurrency is programmed to have net negative issuance post-merge. As Vitalik calculates, this negative flow produces a negative price when plugged into the S2F equation.
Plan B's Response
Plan B didn't take the developer's words lying down, however. He suggested that he and others were simply using him as a scapegoat for their bad investment decisions, ever since the market downturn. Mocking Vitalik's words, he suggested that people "remember" those who "blame others" and those who "stand strong after a crash."
The analyst also retweeted a post from Bitcoin is Saving, stating that Ethereum's token-burn feature is based on S2F logic. However, even many Bitcoiners have criticized Plan B's model in the past for being statistically illogical.
"It destroys our future credibility if we sell hopium moon juice just because the promoters also like Bitcoin and think it will go up," tweeted Swan CEO Cory Klippsten in 2020.
Stay up to date with our latest articles